School News: March 31, 2020
A WORD FROM MR. MARCH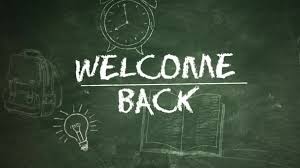 Dear St. John Families:
During this time of uncertainty, it is easy to live in fear of the headlines and people's predictions. Yet we must stand firm in our faith knowing that we serve a Savior who has authority over this world. We need to remember that God is with us every step of every day. He will not leave us or forsake us.
Although having a stay at home order is not something any of us would want, we do need to realize that this is vital in helping to stop the spread of this virus. We understand that this is difficult as we juggle so much as parents right now. As a school we are committed to helping you. First, we are lifting you up in prayer daily. We pray God's protection over you and your family. We pray for you as you find new routines and schedules that work within your family. We pray that God will give you patience, understanding, strength and good health over these coming weeks as we are at home.
Second, we are committed to continuing to educate your child. This will take on different forms as we use a variety of resources and platforms. Please be understanding as we work through some of the kinks. I believe that most classes at this point have had the opportunity to meet virtually in Zoom and see each other, if not they will by the end of the week. This is so important for our students to feel connected with one another. I know that meeting with the teachers via Zoom in the mornings for faculty devotions has been an encouragement to me.
Finally, we are the body of Christ. We are to share in each other's joys and sorrows. Please let us know how we can specifically help and pray for you. We are here to support you and your family. As our theme this year says: be joy-filled today knowing that God has a plan and a purpose in all of this, pray continually for our families, community and country; and find those things to give thanks for because we truly are blessed.
Mr. John March, Principal


WAYS TO STAY CONNECTED

As a faculty and staff, we miss you. There are many ways to stay connected with teachers and students. As always, we will communicate through Fast Direct, and your teachers will be sending a lot of info this way. We would like to encourage you to join us in the mornings at 9 on Facebook Live, as we start our day with Morning Announcements (Mon, Tues, and Thurs.) and Chapel (Wednesday).
You can also join our Pastors for Live Bible Study on Wednesdays at 9:45.
We are still worshiping as a community, but through the blessing of technology. You can join us on Facebook Live on Wednesdays at 4:30 for our Lenten Service and on Sundays at 8:30 am or 10:45 am for our Sunday Services.
You do not need to have a Facebook account to follow us. You can access our Facebook page via our website, stjohnindy.org or on our app.
All of these events, except for the Morning Announcements, can be found on our YouTube Channel afterwards as well.

ZOOM

By now, you should have heard from your teachers about Zoom activities and times. As with all things, schedules can change, but here is our current Zoom Schedule for our classes. Please note that the teachers did the best they could to keep families with multiple children in mind when coming up with the schedule. As always, please refer to Fast Direct and notes from teachers regarding any changes.

PS/PK: M/W 11am
K: M/W 10:15am
1: M/W 9:30am
2: M/W 11am T/Th 12 pm (Read Aloud Sessions)
3: T/Th 9:30am (Read Aloud sessions): M/W 12:15
4: T/Th 10am & optional M/W 1pm if needed
5: T/Th 10am
6: T/Th 11am
7: T/Th 1pm
8: T/Th 2pm


OFFICE CLOSED

To honor the Stay at Home order, there is minimal coverage in the office. The staff has the ability to work from home and meet via Zoom as well. The voicemail and regular mail will be checked frequently but if you have any school related questions, you may email Lori Reno Howard at
• As a reminder, if needed, the pastoral emergency number is 317-451-6074.