School News: September 17, 2019

Soccer and Volleyball Games HOME on Tuesday
Soccer and Volleyball Games at HOME on Thursday
PTL Meeting- September 19 at 7 pm
K-2nd Sing at the 10:45 service on Sunday

PICTURE DAY TOMORROW

School pictures will take place on tomorrow, September 18th. Please refer to the order form that was sent home with students last week. All students will be photographed for the school yearbook and identification purposes whether pictures are purchased or not. All portrait orders must be PREPAID using the envelope that will be provided. Make checks payable to Inter-State Studio. NOTE – The school dress code is relaxed tomorrow. However, jeans are still not allowed since they do not appear in the photos. Also, printing on any shirts must be in agreement with our school values.
You can also place your order online here.

ATHLETIC NEWS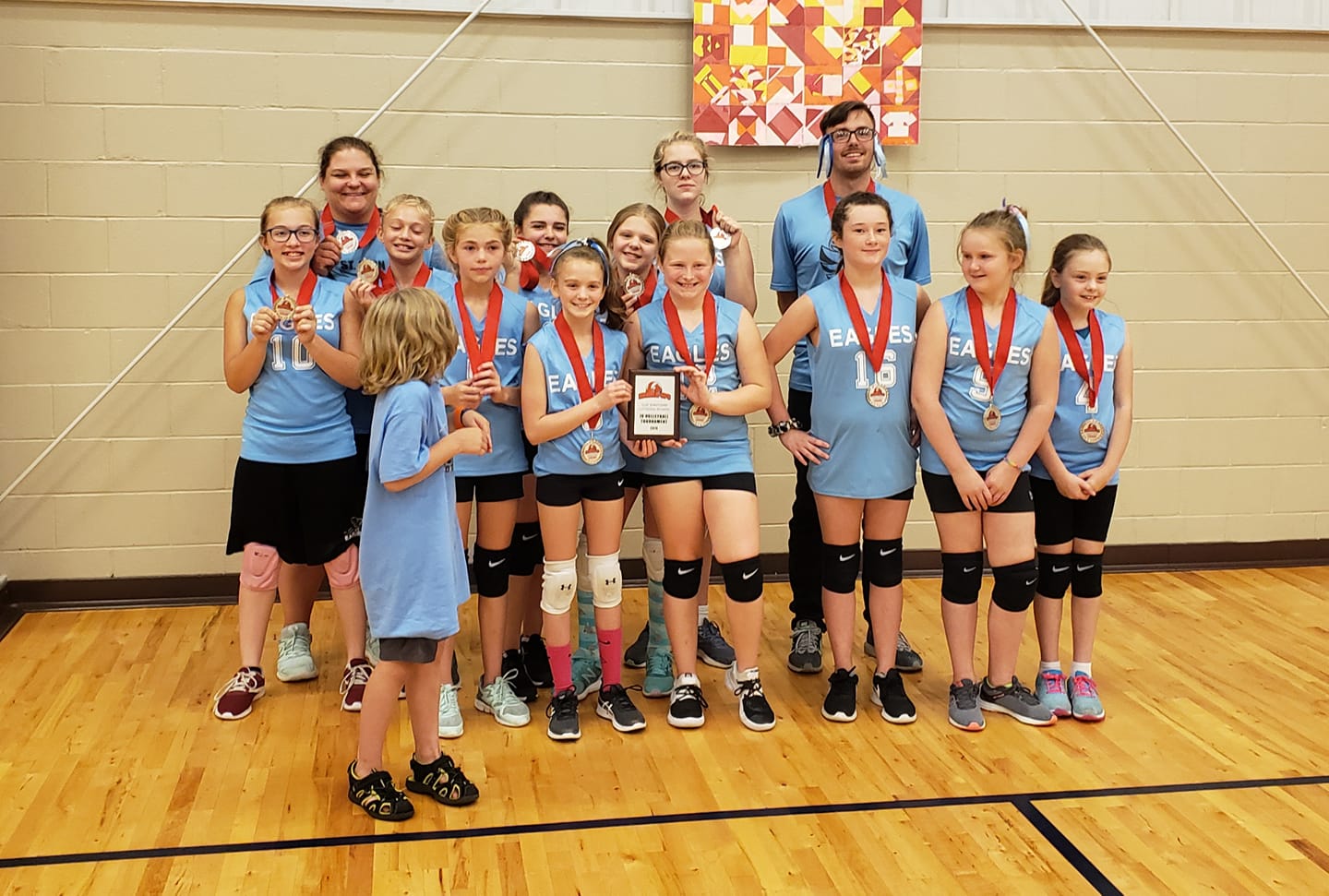 Congratulations to our JV Volleyball team and their amazing 2nd place finish this past weekend at the Our Shepherd.
Today our Eagles will host the Holy Cross Blaze in soccer and volleyball. The soccer game and the 5th and 6th grade (JV) Volleyball game starts at 5 pm. On Thursday, we will be home again, facing the Trinity Trojans. Come and support your Eagles this week!

LOTSA PASTA THANKS


The PTL would like to thank everyone who participated in the Pasta fundraiser! We had over half of the school participate and were able to raise enough funds to purchase 4 fans for our gym, which will arrive the week of September 23rd!! We had a tie for our top selling class....3rd grade and 7th grade will get a pizza party, both classes selling 158 items! Great job!! Also, we decided to do a percentage of items sold by the number of students in each class and the 6th grade class was the winner with 7.6% participation. The 6th grade class will get a pizza party, too! The top item seller goes to Jackson B. with 56 items sold!! Jackson won a $50 gift card! Awesome job, Jackson! With such amazing support, the PTL was able to get approval, for the entire school, to have a pajama day!! This day will be on Monday, September 30th!! Thanks again for all your support in this fundraiser, it was greatly appreciated!! Pasta should be here by the end of the week!

EAGLE'S EYE

Our 5th-8th Graders have electives through out the year. One of this year's electives is a Newspaper class. This group has named the school newspaper "Eagle's Eye." To read the first edition, click here. The next edition is slated to print around Fall Break.

Parents of 5th-8th Grade athletes interested in basketball and cheerleading are asked to attend the Parent Information Meeting next Wednesday, September 25th at 5 pm in the Music Room. Please speak with Mr. Galligar if you have any questions.

Our next PTL meeting is Thursday, Sept. 19th at 7:00 pm. We will meet in the Teacher Workroom and would love to have you join us. This is a great opportunity to meet other parents and plan activities for our school.

You are invited to join us for our 3rd Annual Oktoberfest on Sunday, October 6th at noon. A German-themed lunch will be served in the Gym at noon. We will have corn-hole, bounce houses, face painting, and more. Click here to RSVP.

We invite you and your school to join us in raising awareness and funds for breast cancer research! October 8th is our PINK NIGHT. We will be selling tshirts again this year. They are black shirts with pink print. Anyone wearing the 2019 Pink Night t-shirt on Oct 8 will get free admission to LHSI volleyball match (JV begins at 6:00 and Varsity follows). All cancer fighters and survivors will get free admission, be recognized following the jv match, and be invited to a hospitality room in their honor. Turn in the pre-order form and money by Friday, Sept 20 to the office to guarantee your order.
The order form was sent home with your student today.
Click here to learn more about Mrs. March