Summer Days Camp
Our goal is to provide faith-based, engaging day camp opportunities for creative enrichment and recreation for students in Pre-K to 4th grade students.
Camp will run Monday through Friday from 9:00 AM - 3:00 PM
We will offer optional Before Camp Care from 7:00 AM - 9:00 AM
As well as optional After Camp Care from 3:00 PM - 6:00 PM
There is a $25 per child or $40 per family Non-Refundable Registration Fee if you register by April 15th. After April 15th, the Fee increases to $40 per child and $70 per family.
The cost of camp is as follows:
DAILY CAMP RATES
CAMP
$33 Per Day
9:00 AM-3:00 PM

WEEKLY CAMP RATES
CAMP
$158 Per Week
9:00 AM-3:00 PM


A LA CART FEES
$8 Per Day
BEFORE CAMP
7:00 AM-9:00 AM
AFTER CAMP
$12 Per Day
3:00 PM-6:00 PM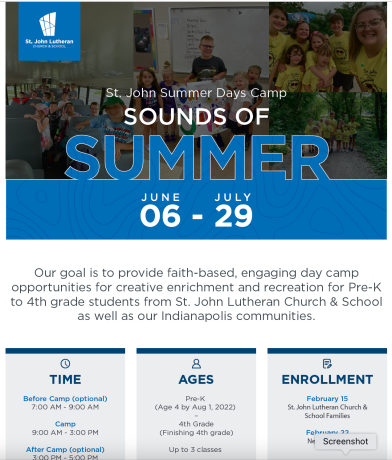 To register for the 2022 Summer Days Camp, click here.